Hello, Hope your October is going well!  Here's the news, listings, open houses, events and more!  Reach out if you have any specific questions!  Enjoy!
Phoenix-Area Real Estate News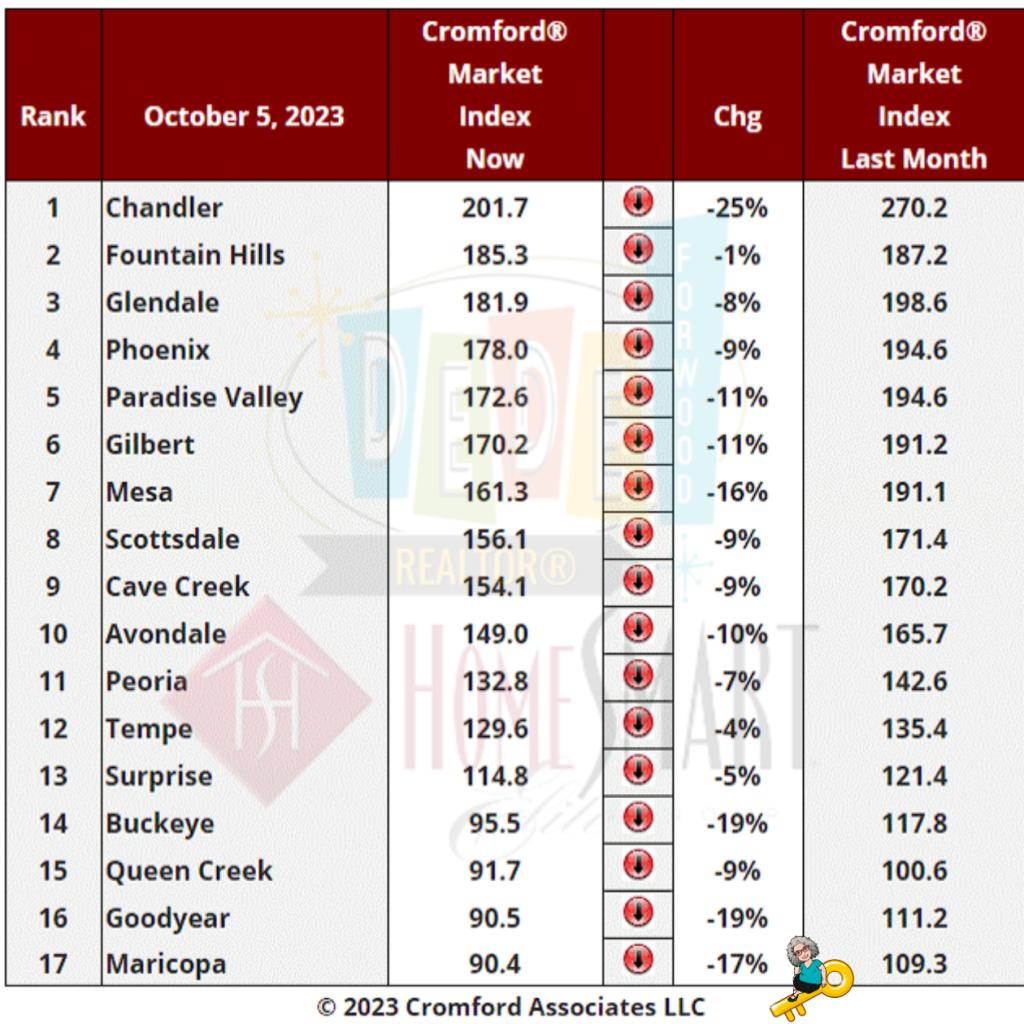 Here is our latest table of Cromford® Market Index values for the single-family markets in the 17 largest cities.
This is the most dismal table for sellers Cromford has posted since November 10 last year. All 17 cities have seen their CMI drop over the last month, meaning that power is slipping away from sellers and moving towards buyers.
We do not have to look far to find the most obvious reason – mortgage interest rates. While most pundits predicted rates would fall in the second half of 2023, the shortage of buyers for bonds have caused yields to rise. The typical 30-year fixed mortgage rate is now around 7.7%, up from 7.3% a month ago. Understandably, buyers are far from enthusiastic about this and in some cases fail affordability tests they could once have passed easily.
This is not the whole story however, because supply is now rising at the fastest rate we have seen since last year. A combination of lower demand and higher supply means the average CMI in the table has fallen by 11.2%, well above the 9.4% drop we measured last week and 7.8% two weeks ago.
Well above average declines can be seen in Chandler, Goodyear, Buckeye, Maricopa and Mesa. Falling but at a much lower speed are Fountain Hills, Tempe and Surprise.
13 out of 17 cities are still sellers markets (for now) with Buckeye, Goodyear, Queen Creek and Maricopa in the balanced zone. However these 4 cities are now below the 100 mark implying that buyers have a slight edge in negotiations. On the current trajectory, these 4 could all be confirmed as buyers' markets before the end of the month.
Among the secondary cities, Laveen and Tolleson did manage small increases in their CMI, but the other 10 cities declined like their larger counterparts.
Affidavit of Value
The Affidavit of Value recorded during September by Maricopa County have now been analyzed and show us the following:
There were 5,896 closed transactions, down 18% from 7,174 in September 2022 and down 10% from August.
There were 1,624 closed new homes, up 1.6% from 1,599 in September 2022 and up 1% from August.
There were 4,272 closed re-sale transactions, down 23% from 5,575 in September 2022 and down 14% from August.
The overall median sales price in September was $450,000, down 2.8% from September 2022 and down 2.0% from August.
The re-sale median sales price was $440,000, down 1.1% from September 2022 and down the same percentage from August.
The new home median sales price was $479,102, down 7.4% from September 2022 and down 4.2% from August.
Because the market was already suffering from high interest rates in 4Q 2022, the year over year comparisons do not tell the full story of how much the housing market has contracted. The September 2021 closed transaction total was 11, 257, so last month was down a massive 48% compared with 2 years ago. New home sales have remained resilient and actually grew both month over month and year over year, despite the extremely weak demand in the re-sale market. If we look purely at re-sale closings September was down an incredible 55% compared with 2 years ago in September 2021. In contrast new home closings were down just 3% from 2 years ago.
Once again, the new home numbers were significantly affected by a large buy-to-rent transaction in Buckeye 85326 involving 173 new homes built by DR Horton and purchased by Progress Residential as rentals. This tranche of 173 single-family homes cost $56,206,719.67, meaning they cost only $324,894 each on average. Needless to say the new home median sales price would have been much higher if this transaction were to be excluded.
New Build YTD Dollar Volume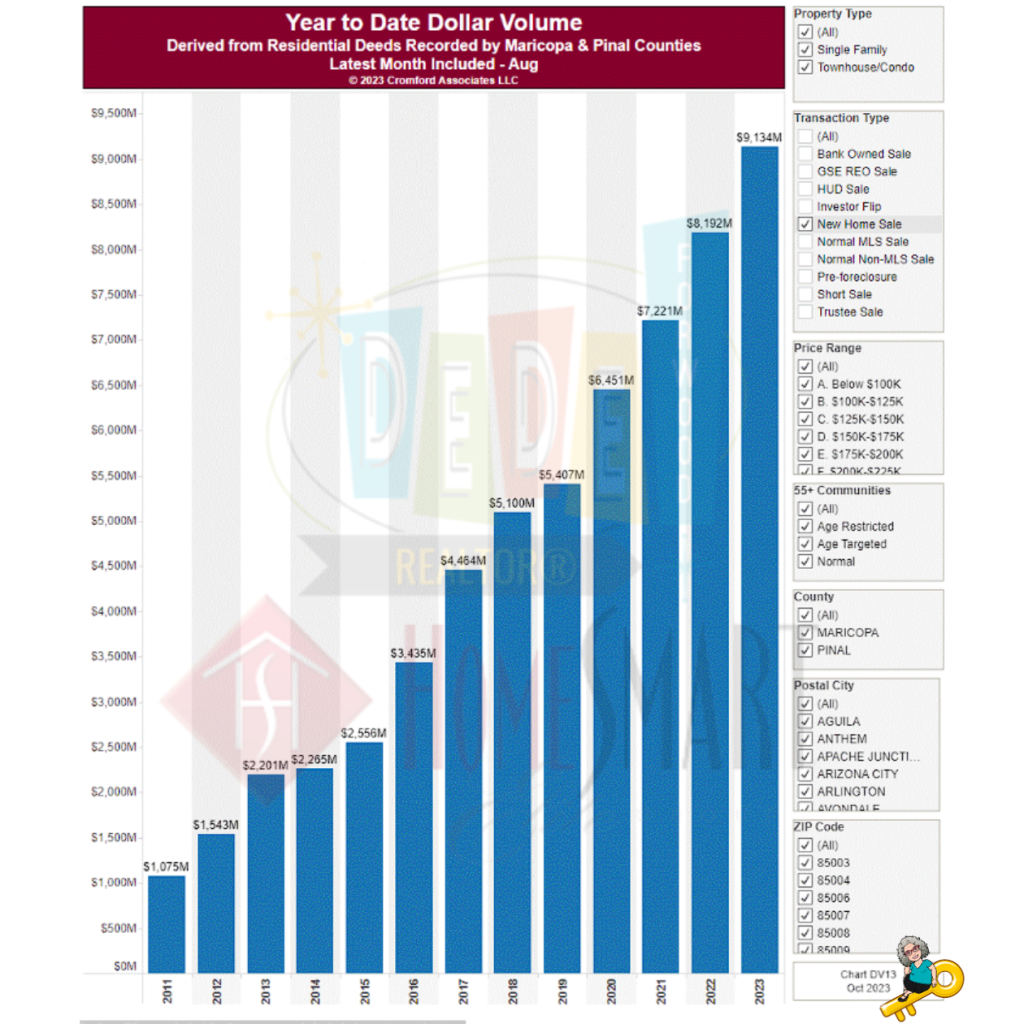 The dollar volume for new homes is not only higher than every prior year, it is up a massive 11.5% from last year. Clearly agents working for developers are not feeling the same challenges that the rest of the agent community is going through. Business is strong. demand remains good and there is no reluctance to sell due to cheap prior mortgages, because there are no cheap prior mortgages on newly built homes.
In addition, developers are happy to agree to use some of their gross margins to buy-down lower mortgage rates for their customers, at least for the first year or more.
Although the census has reported a sharp fall in building permits for single-family homes compared to a year ago, this trend has now reversed and more new homes are likely to become available in coming months.
Concise Market Snapshot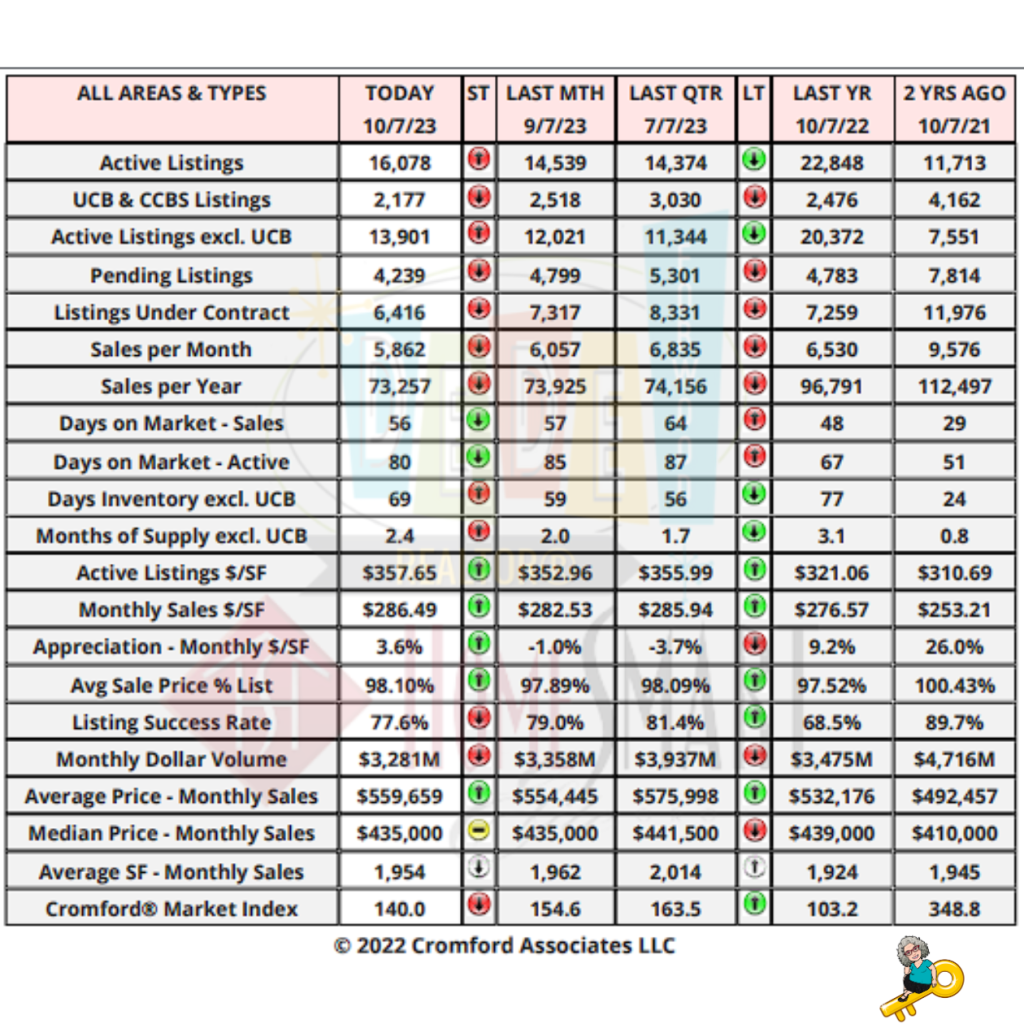 Valley of the Sun Sold Listings
5139,4352,5707,7603,6694,8109,7456,5916,6266,5572,5211,4621
Information is deemed to be reliable, but is not guaranteed. © 2023
Valley of the Sun Inventory
20206,18569,17793,16647,15609,14379,13814,13583,13502,14892,16421,18255
4976,7932,7724,8449,7881,7906,7669,7047,8018,8071,8266,6914
Information is deemed to be reliable, but is not guaranteed. © 2023
Valley of the Sun New Listings
4976,7932,7724,8449,7881,7906,7669,7047,8018,8071,8266,6914
Information is deemed to be reliable, but is not guaranteed. © 2023
Valley of the Sun Pending Listings
4452,6721,6802,7589,7794,7159,6297,5831,5812,5017,4741,3248
Information is deemed to be reliable, but is not guaranteed. © 2023
Valley of the Sun Absorption Rate
2.7,2.6,2.57,2.47,2.39,2.28,2.21,2.19,2.19,2.41,2.69,3
Information is deemed to be reliable, but is not guaranteed. © 2023
Valley of the Sun Sale to Original List Price Ratio
91.3,92.0,92.9,94.0,94.7,95.6,96.2,96.7,96.6,96.8,96.6,96.0
Information is deemed to be reliable, but is not guaranteed. © 2023
Valley of the Sun Average Days on Market
68.2,79.0,81.1,76.5,73.2,68.4,64.5,58.5,57.5,55.4,55.8,57.1
Information is deemed to be reliable, but is not guaranteed. © 2023
Valley of the Sun New Listings Volume
2961553112,5229202708,5130864820,5394546759,4972647948,5111025186,4753780598,4309141109,4950250101,5431541951,5737582653,4674557671
Information is deemed to be reliable, but is not guaranteed. © 2023
On Saturday, October 07, 2023, the current average 30-year fixed mortgage interest rate is 7.86%, up 9 basis points over the last seven days. If you're in the market for a mortgage refinance, today's national 30-year refinance interest rate is 8.08%, rising 11 basis points from a week ago. In addition, today's current average 15-year refinance interest rate is 7.13%, up 13 basis points over the last seven days.
New Listings:
New to the Market
MLS IDX Listing Disclosure © 2023
Copyright 2023 Arizona Regional Multiple Listing Service, Inc. All rights reserved. Information Not Guaranteed and Must Be Confirmed by End User. Site contains live data.
Upcoming Open Houses:
Open Houses this Weekend
MLS IDX Listing Disclosure © 2023
Copyright 2023 Arizona Regional Multiple Listing Service, Inc. All rights reserved. Information Not Guaranteed and Must Be Confirmed by End User. Site contains live data.
---
ADOT's Weekend Freeway Travel Advisory (Oct. 6-9) – Phoenix Area
One freeway closure scheduled along eastbound US 60 in Mesa 
PHOENIX – One freeway closure for improvement work is scheduled in the Phoenix area this weekend (Oct. 6-9), according to the Arizona Department of Transportation. Eastbound US 60 (Superstition Freeway) will be closed at Greenfield Road. Meanwhile, a ramp connecting southbound State Route 143 to westbound I-10 also will be closed. Drivers should allow extra travel time and plan detour routes if necessary while the following weekend and overnight restrictions are in place:
Eastbound US 60 (Superstition Freeway) closed at Greenfield Road from 9 p.m. Friday to 5 a.m. Monday (Oct. 9) for bridge work. Eastbound US 60 on-ramps at Val Vista Drive, Gilbert Road and Stapley Drive also closed. Please allow extra travel time.

Detours: Consider exiting ahead of the closure and using eastbound Baseline Road, Southern Avenue or Broadway Road to travel beyond the closure. The eastbound US 60 on-ramp at Greenfield Road will be open, but plan for heavier traffic in the area.

Southbound State Route 143 (Hohokam Expressway) ramp to westbound Interstate 10 closed from 10 p.m. Friday to 4 a.m. Monday (Oct. 9) for traffic shift as part of the I-10 Broadway Curve Improvement Project. Westbound I-10 on-ramp at Broadway Road also closed.

Detour: Consider using westbound University Drive to southbound 40th Street to access westbound I-10. For more info please visit I10BroadwayCurve.com.

Westbound I-10 narrowed to one or two lanes overnight in areas between Dysart Road and Verrado Way in the West Valley from 9 p.m. to 5 a.m. Sunday through Thursday nights (Oct. 8-12) for pavement maintenance. Please allow extra travel time and consider adjusting travel schedules to avoid overnight delays.
Schedules are subject to change due to inclement weather or other factors. ADOT plans and constructs new freeways, additional lanes and other improvements in the Phoenix area as part of the Regional Transportation Plan for the Maricopa County region. Most projects are funded in part by Proposition 400, a dedicated sales tax approved by Maricopa County voters in 2004.
Real-time highway conditions are available on ADOT's Arizona Traveler Information site at az511.gov and by calling 511. Information about highway conditions also is available through ADOT's Twitter feed, @ArizonaDOT.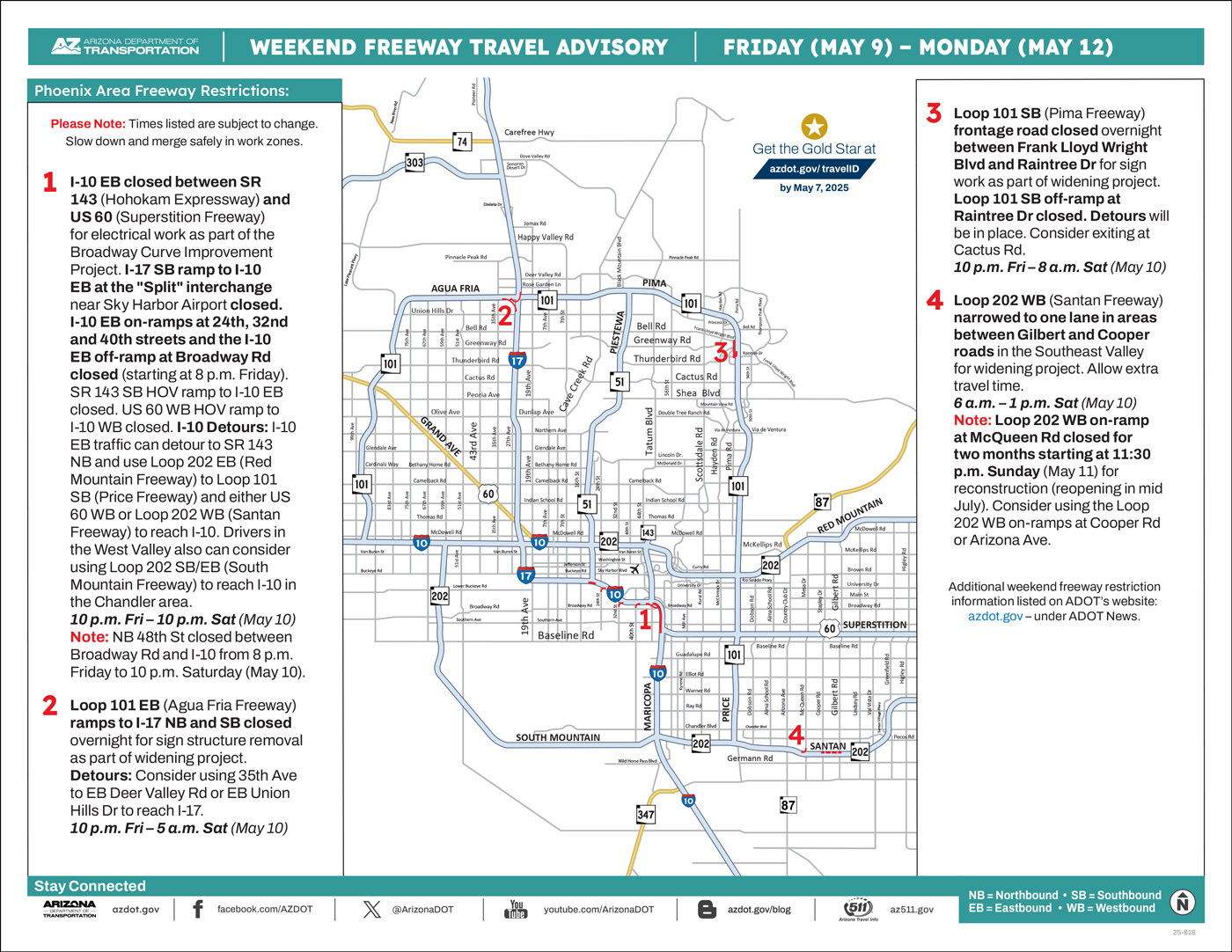 National Real Estate News 
Real Estate News in Brief
The trend has not been a homebuyer's friend, as mortgage rates hit another new high, while home prices continued to rise across the country.
It's jobs week again, with conflicting evidence from the JOLTS survey for August (beat = bad for bond prices and mortgage rates) and ADP's employment report for September (miss = good for bond prices and mortgage rates). But these are mere preludes to the very important Bureau of Labor Statistics ("BLS") jobs numbers which will come out this (Friday) morning.
Reminder: JOLTS is an acronym for Job Openings and Labor Turnover Summary. It also comes from the BLS. Job Openings are open positions — basically, ads for jobs. They aren't official jobs (employment) until those positions get filled. Still, a rising number of job openings definitely indicates stronger hiring demand on the part of employers.
(-) The August JOLTS report showed a chunky 8% MoM increase in job openings, to 9.6 million. That was much higher than expected, and snapped three months of declines. What is interesting about this is that the "hires rate" of 3.7% and the "separations rate" (quits + layoffs) of 3.6% were both: 1) unchanged MoM, and 2) very similar. So while job openings may have jumped in August, we know that actual net jobs growth didn't. [BLS]
(+) This ties in nicely with ADP's September (note the month) employment report, which saw a net increase in private employment of just 89,000. Remember, these are actual jobs. That was both: 1) lower than expected, and 2) the smallest increase in private employment since early 2021. So how does ADP's number usually compare with the soon-to-be-released BLS number? While they certainly trend in the same direction, the month to month relationship is volatile. [ADP]
Average 30-year mortgage rates continued to set new two-decade highs, hitting 7.74% on Thursday. The latest move was driven by: 1) the JOLTs beat, and 2) unhelpful commentary from several Fed members. [Mortgage News Daily]
The Mortgage Bankers Association reported that its Purchase Index (a measure of new purchase mortgage applications) fell 6% WoW and 22% YoY to a level not seen since 1996. In their own words, "The rapid rise in rates pushed an increasing number of potential homebuyers out of the market." Not surprisingly, interest in ARMs (adjustable rate mortgages) is rising, as buyers look for any opportunity to get their mortgage rate down. [MBA]
We got the August home price growth numbers from Black Knight (+0.7% MoM) and CoreLogic (+0.3% MoM). Year-to-date, both indices are up 5.0–5.5%. At this pace, home prices would rise 7.5–8.0% YoY in 2023. On a $400,000 home, that's $30,000–36,000 in appreciation. [Black Knight, CoreLogic]
Rental rates usually fall in September. But this September, they dropped 0.5% MoM, the largest drop in many years. As a result, national rental rates are now down 1.2% YoY. And it's widespread: rents are down YoY in 71 of the 100 largest cities. [ApartmentList]
---
Mortgage Market
If I sound like a broken record, it's only because we keep breaking records — the wrong kind. The 10-year treasury yield briefly touched 4.8% this week, moving up aggressively in response to the JOLTs "beat", before calming down on the ADP "miss." Q: What's driving this strong upward trend in yields? Is it the ongoing 'higher for longer' commentary from Fed members? The quantitative tightening going on behind the scenes? The jobs data? A: All of the above.
---
They Said It
"This cooldown [in rental rates] is widespread; rents fell month-over-month in September in 85 of the nation's 100 largest cities, and thanks to sluggish rent growth over the past 12 months, prices are down year-over-year in 71 of these 100 cities.
Rent swings are largely driven by the balance between the number of vacant apartments available and the number of renters looking to move into them. A massive shortage of vacant units helped drive tremendous rent growth in 2021 and 2022, and today the opposite is true." — Apartment List September Rental Report
Here's your links for this weekend's events!
My Website always has a list of what's upcoming.  Go here and maybe I'll see you out there!
What's Going on with DeDe? 
This week, we got our appraisal back on my listing in Buckeye,
went under contract on a lovely property in Surprise.
I got to see the Breeders and the Foo Fighters thanks to my friend Rob,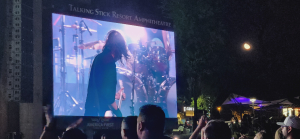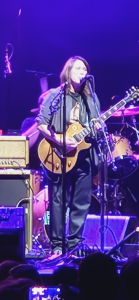 got to my first Arizona Fall League Game (go Glendale Desert Dogs),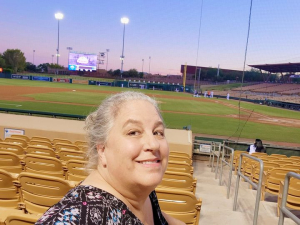 and celebrated National Smile Day with my Rescue Dogs!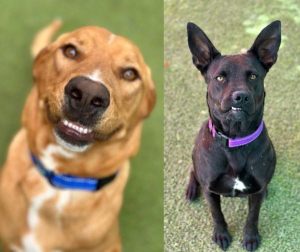 That's all for this week!  Know I am always here for any questions you have about Buying, Selling, or Investing in Residential Real Estate!  HomeOwnership too!  Vendors and Tradespeople too!  Don't hesitate to Reach out
See you next Week!
DeDe