…but what's not to love being a seller on the opposite end of the situation?!
It's the ideal situation, right? You put your house on the market, buyers fight over it, driving up the price, and all you have to do is pick the offer you like best! Voila! Piece of cake.
Well, while it truly is the ideal situation to be in as a seller, it's not entirely stress-free. Check out 10 unexpected things you'll go through when receiving multiple offers on a home you're selling:
1) It is stressful for sellers…
The first thing that surprises many sellers when they receive multiple offers is that it's not as fun as they thought it'd be. It's exciting, for sure, but it's not something most people would classify as fun.
2) Feeling like you priced your house too low…
In order to get multiple offers, your house needs to be listed at a price that's appealing to buyers and will make them need to act fast if they even want a chance at buying it. If you're receiving multiple offers, it means you did a good job doing that, and now those buyers are going to take the price as high as the market will bear.
It might feel like you could've gotten even more for your house if you'd priced it even higher. But the reality is, you probably wouldn't have gotten multiple (or any!) offers if you priced it higher, and the price wouldn't have gone as high as it will with multiple buyers competing.
3) Feeling like you should wait for more offers…
Whether you get only two offers, or thirty-two, it's tempting to fall into the trap of wondering if just waiting a little while longer will produce even more offers than you've already received. While you might get more by waiting, you run the risk of losing the interest of serious buyers who feel like they're being dragged along and having their offer used as leverage to get other offers.
Therefore, give everyone interested a clearly defined timeframe for when offers need to be submitted by, and work with the ones you receive in that timeframe.
4) Shock (and possibly anger) if you receive a low offer…
You might be surprised to see a buyer submit an offer below your asking price. While a bidding war typically compels buyers to offer above asking price, not all buyers can or will. Don't take offense or get angry; thank them for their interest and offer, and focus on the better offers that come in.
5) People trying to play on your emotions…
There's a good chance some buyers will plead their case by writing you a "love letter" that gives you some details about who they are, what they love about your house, and why you should choose their offer over others. Ultimately it's a business decision, so try to focus on the offers objectively, and choose the one with the best price, terms, and chance of closing without an issue.
6) Being tempted by the highest number…
A lot of people think that the best offer is the highest offer. But sometimes an offer that isn't as high as other offers can actually be the better one to accept! Perhaps they're a more solid and qualified buyer, or their terms are better. Plus, they may be more appreciative and loyal to you throughout the process, and have less chance of backing out of the deal, if they know you chose theirs even though it wasn't necessarily for the most money.
7) Feeling like everyone's waiting on your decision…
Even if you and your agent are relatively quick about reviewing all of the offers and responding to the buyers, every minute they're waiting to hear from you seems like an hour to them. While you probably won't hear them wondering aloud, you'll definitely feel like everyone's crowded around you, eagerly awaiting your decision.
8) Feeling bad for buyers you said no to…
Unfortunately, you can only accept one offer, which means you'll be disappointing everyone else who submitted one. You may never meet any of them in person, but don't be surprised if you feel bad for the people you had to say no to.
9) Dealing with someone who increases their offer too late…
Most of the time, you and your agent will give everyone a deadline to submit their best and final offer. That gives everyone a chance to really think about their offer and put their best foot forward, crafting an offer they won't regret whether their offer is accepted or rejected.
However, a lot of times a buyer whose offer was rejected comes back with a higher offer after you've made your final decision. The question is: Why didn't they offer that when they had the chance? The bigger question is: Will they regret increasing their offer and try to cancel the contract if you do accept it?
10) Worrying that you made the right choice…
Once you choose the offer you'll go with, prepare to worry about whether the buyer will back out of the deal, or ask for lots of repairs or credits after the home inspection, or fail to qualify for their mortgage. But hopefully, with the insight and guidance from your agent, you're able to choose the best buyer and offer that you can trust all the way to the closing table.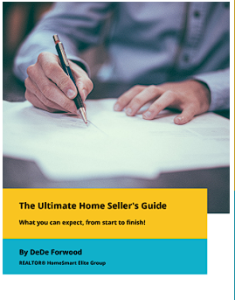 HOW TO SELL YOUR HOUSE FOR THE HIGHEST AMOUNT OF MONEY…