Embarking on the journey of purchasing a new construction home is an exciting venture. The allure of being the first owner, coupled with the chance to personalize your living space, holds undeniable appeal. Yet, the intricacies of navigating a home under construction can feel like a labyrinth. This is where I as your skilled real estate agent step in as your guiding light, helping you seamlessly navigate the path to your dream home. Let's delve into the reasons why having me by your side can be the game-changer you need.  Agents at New Build communities are nice, kind and helpful, but they work FOR the builder and have the builder's best interest at heart.  Having someone with your best interests at heart to negotiate and guide you evens the playing field.  Here's why.
1. Local Insights That Matter: A seasoned local real estate agent isn't just familiar with the lay of the land, but we also have our finger on the pulse of emerging communities and future developments. Imagine being aware of that planned highway before it impacts your idyllic backyard view.  My insight extends beyond the walls of your prospective home, helping you make an informed decision that aligns with your lifestyle and long-term goals.
2. The Wisdom of Builder Knowledge: The construction quality and reputation of builders can vary greatly. This is where your agent's expertise shines. With a wealth of experience dealing with different builders, we can provide valuable insights into their track records, customer satisfaction levels, and construction practices. Armed with this knowledge, you can confidently choose a builder renowned for delivering quality homes they stand behind and exceptional craftsmanship.
3. Crafting Your Dream Home: Customization is one of the key draws of new construction homes. But making the right choices amidst a sea of options can be daunting. I, as your agent become your partner in this process, offering advice on upgrades that not only align with your vision and your budget (and helping keep a rein on at the Design center!) but also promise long-term value. A keen eye ensures you make investment-worthy decisions that elevate your new home's appeal.  There's also trends that are here and now, but will they last?
4. Decoding Contracts and Negotiations: Navigating builder contracts is a journey in itself, distinct from traditional home purchase agreements. This is where my expertise proves invaluable. I'll decipher the fine print, ensuring you fully understand the terms and conditions (which are sometimes presented VERY quickly on a tablet device). Moreover, my negotiation skills come to the forefront, potentially securing better deals, upgrades, or incentives on your behalf.  Some of these are landscaping, window coverings, closing costs, etc.
Conclusion: In the thrilling pursuit of your new construction dream home, myself and other seasoned local agents stands as your secret weapon. Our local insights, builder knowledge, customization guidance, and contract mastery form the cornerstone of your successful homebuying journey. So, before you take those exciting steps to explore a new home community, remember to partner with a skilled agent. With our expertise, your vision of the perfect home can seamlessly transform into reality. And when you're ready to embark on this journey, make sure to visit www.showingnew.com/dedeforwood to explore new builds and remember to bring me along before you tour or visit new home communities.  Your dream home is closer than you think!
Do you have any questions about new build/New Construction homes?  I'd LOVE to help.  Please reach out here!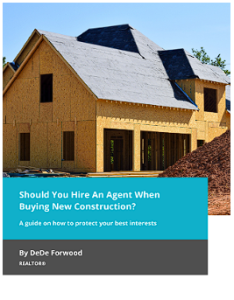 This free booklet will empower you to make the right decision for your particular situation.
It will also reveal how to prevent the builder from taking advantage of you.
HERE'S A PEEK AT WHAT'S INSIDE:
Why you should avoid going to see a model home without your own representation
What builders build…into their cost
Why most people pay at least asking price for new construction, and almost never get it for below list price
How to avoid "tunnel vision" caused by dealing directly with the builder or their sales rep
Tips on timing and planning accordingly when buying new construction
Bonus: A series of follow-up emails with more thoughtful tips, hints, and resources, only available if you have downloaded the booklet
AND SO MUCH MORE…
If you'd like a free copy, just let me know where to send it by entering your information below.
And don't worry…
● There's no obligation
● It's totally free
● I'll never share your information with anyone…so don't worry about SPAM or anyone finding out you're even considering making a move.