Are you a homeowner in the vibrant Phoenix Valley of the Sun, considering selling your home and moving to a home that better fits your needs but feeling held back by certain uncertainties? You're not alone. Two significant concerns often loom large for those contemplating a sale in this sun-soaked region: the specter of higher mortgage rates and the worry of navigating a tight housing market. In this blog post, we'll break down each of these challenges and arm you with valuable advice to navigate them with confidence.
Challenge #1: The Reluctance to Take on a Higher Mortgage Rate
The Federal Housing Finance Agency (FHFA) has revealed an interesting insight: the average interest rate for current homeowners with mortgages sits comfortably below 4%. However, in today's dynamic landscape, the reality is that the typical 30-year fixed mortgage rate offered to buyers is creeping closer to 7%. Unsurprisingly, this divergence between existing and potential rates has created a phenomenon known as the "mortgage rate lock-in effect."
The Advice: Seize the Moment
While experts predict a gradual decline in mortgage rates as inflation stabilizes, waiting indefinitely may not yield the desired results. The mercurial nature of mortgage rates makes predicting their trajectory a challenging endeavor. What's more, home prices are showing signs of upward movement. By taking action now, you not only avoid the risk of rising home prices but also position yourself advantageously for potential rate drops in the future. Remember, you can always explore refinancing options later.
Challenge #2: The Fear of Not Finding Something to Buy
In a scenario where homeowners are hesitant to embrace higher mortgage rates, the supply of homes entering the market inevitably dwindles. This situation, as Lawrence Yun, Chief Economist at the National Association of Realtors (NAR), points out, will lead to a prolonged period of tight housing inventory. Some homeowners, unwilling to relinquish historically low mortgage rates, are forgoing the move-up or downsizing experience.
The Advice: Expand Your Horizon
The fear of a dearth of available homes shouldn't paralyze you. Instead, embrace a broader search perspective. While single-family homes might be your preference, consider the array of housing options like condos, townhouses, or even newly constructed properties. The new realities of remote work or hybrid arrangements provide the perfect opportunity to consider areas beyond your initial scope. A longer commute might be offset by more affordable housing options.
The Bottom Line
Rather than fixating on the challenges, direct your energy toward the actionable steps within your control. Reach out to a local real estate agent—a seasoned professional equipped with the expertise to steer you through these complex waters. With their guidance, you can navigate the intricacies of the Phoenix Valley's real estate market and find your perfect abode amidst the desert's warmth.
In the Phoenix Valley of the Sun, opportunities abound even amidst challenges. With strategic thinking and a proactive approach, you can conquer the uncertainties and embark on your journey to a new chapter in your dream home.
https://youtube.com/shorts/i_i6oYwRnI0
HOW DO YOU SELL YOUR HOME FOR THE HIGHEST AMOUNT OF MONEY?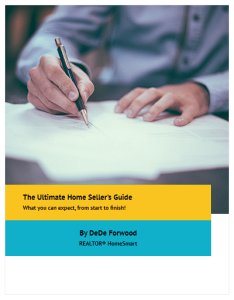 And as quickly as possible, with the least amount of disruption in your life?
Well, for starters, download a copy of my booklet "The Ultimate Home Seller's Guide".
HERE'S A PEEK AT WHAT'S INSIDE:
Learn the "process" by simply reading the book. (It's written in an order that flows from start to finish, so you'll know what to expect, when to expect it, what to do, and when to do it.)
Discover how to develop a truly trusting relationship between you and your real estate agent. (Ahem…hopefully that'll be me! LOL)
Get a handle how to handle a "low-ball" offer if you get one. (Every sellers greatest fear.)
Understand how to handle the opposite "problem"…having multiple offers!
Find out why negotiating isn't one-size-fits-all.
Learn the importance of, and what it takes, to keep a deal together once you accept an offer. (You'd be surprised at how many deals fall apart.)
AND SO MUCH MORE…
Don't worry if you're super busy; this isn't the real estate version of "War And Peace." It'll be a quick, insightful (and hopefully kind of fun) read for you!
Within the next couple hours, you'll literally know more about selling your house than any of your competition (and even some real estate agents) if you go ahead and ask for your copy now.
So tell me where to send it, and you'll be done reading it in no time. Although… you'll probably find yourself going back and rereading it throughout the process of selling your home! (Especially if you don't end up working with me! But if you do, I know this stuff inside and out. Just sayin'…)