Hello, Happy Friday!  Here's the news, listings, open houses, events and more!  Reach out if you have any specific questions!  Enjoy!
Phoenix-Area Real Estate News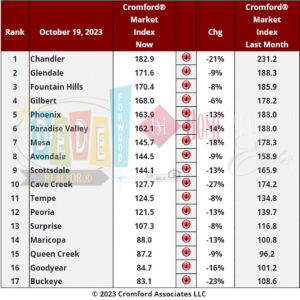 All 17 cities have seen their CMI drop over the last month, meaning that power is quickly slipping away from sellers and moving towards buyers. The average CMI in the table has fallen by 13.4%, well above the 11.2% we measured two weeks ago.
Although almost all pundits predicted rates would fall in the second half of 2023, the typical 30-year fixed mortgage rate is now around 8.03%, up from 7.33 a month ago. In historical terms, this is unexceptional, but the majority of home-buyers are too young to have experienced rates at this level before. Unless they are working with a seller who is prepared to buy-down their interest rate, the majority of buyers lack enthusiasm to jump in at this point and many are choosing to wait until times get easier. People would still like to buy a home eventually, so latent demand is rising while actual demand falls.
Supply is now rising at the fastest rate so far this year. The combination of lower demand and higher supply is just what sellers don't want.
Well above average declines in CMI can be seen in Chandler, Cave Creek, Buckeye and Mesa. Falling but at a lower speed are Gilbert, Avondale, Glendale, Queen Creek, Fountain Hills, Tempe and Surprise.
12 out of 17 cities are still sellers markets with Surprise in the balanced zone while Buckeye, Goodyear, Queen Creek and Maricopa are all confirmed as buyers' markets.
Cromford Market Index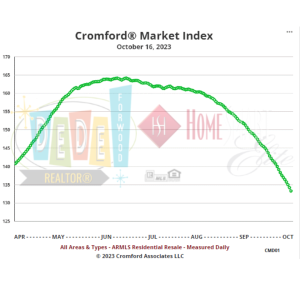 The Cromford® Market Index managed to stay above 160 until August 19, but since then it has declined at an accelerating rate in the face of increasingly unattractive mortgage interest rates.
The 30-year jumbo rate has already breached 8% and the 30-year fixed rate looks likely to follow, after jumping higher at the start of this week. Demand has been weak all year but these rates are driving it to lower levels. At 73.2 the Cromford® Demand Index is the lowest we have recorded since January 11 and is still trending down. In January the Cromford® Supply Index was also heading down fast, keeping the market balanced in favor of sellers. This month we are seeing supply increase, so balance is shifting in favor of buyers.
Although we are not in the balanced CMI range between 90 and 110 yet, the current trend would place us there within a matter of weeks. This is not a reassuring situation for sellers and their confidence is much weaker than it was a couple of months ago. Buyers have a better negotiating position but those needing finance are increasingly dismayed at the cost of their monthly repayment. Both sides are unhappy, leading to weakening transaction volumes and lower closing rates. This spreads the hurt across all sectors of the housing industry. New home builders are the least affected, since they have the financial resources to buy-down the interest rates for their customers and so maintain better sales volumes and pricing.
The listing success rate has declined to around 76% after staying over 80% until the end of July. The positive news is that it has not dropped to the level of this time last year, when we seeing success rates in the low 60s.
Concise Market Snapshot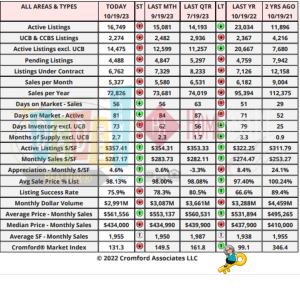 Our Concise Market Snapshot has the Valley of the Sun at 16,749 Active Listings, up 1,668 from this time last month and down 6,285 from this time last year.  Under Contract listings are at 6,762, down from last month's 7,329 and last year's 7,126.  Pending Listings are 4,488, down from last months 4,847 and from last year's 4,759.  Sales per month are at 5,327, down from last month's 5,580 and last year's 6,182.  Days on market sales are at 56, same as last month's and up from last year's 51.  Days on marke – active are at 81, down from last month's 84 and up from last year's 71.
Active listings $/sf is $357.41, up from last month's $354.31 and last year's $322.25.  Monthly Sales $/sf is at $287/17, up from last month's $283.73 and last year's $274.47.  Monthly Appreciation is at 4.6%, up from last month's 0.6% and down from last year's 8.4%.  Average sales price % of list price is 98.13%, up from last month's 98% and last year's 98.40%  Our Average Price is $561,556, up from last month's $553,137 and last year's $531,893.  Median price is $434,000, down from last month's $434,990 and up from last year's $437,900.
Average SQ Ft is 1,955, up from last month's 1,950 and last year's 1,938.
Exciting Big Building Projects transforming the Valley: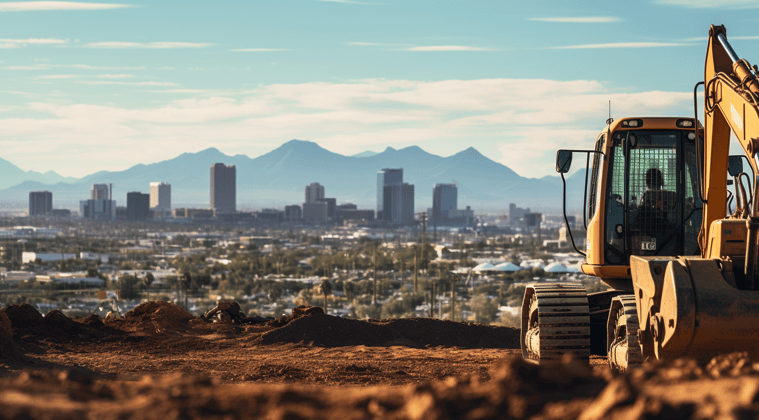 Big building projects are changing the landscape of the valley, bringing new opportunities for job growth, economic development, and potential homes. Here are some noteworthy projects to keep an eye on when figuring where to live AND How to live:
1. **Sheels, Chandler**: Opening in Fall 2023 at Chandler Fashion Center, Sheels is set to be a 20,000-square-foot marvel that will employ 400 people. The complex will feature a Ferris wheel, a saltwater aquarium, a wildlife mountain, a candy shop, a restaurant, café, arcade, and sports simulators. Additionally, specialty shops catering to fashion, outdoor sports, hunting and fishing gear, athletic clothing, and sports equipment will be available. It's a one-stop destination for shopping and entertainment!
2. **Mattel Adventure Park, Glendale**: Expected to open in 2024 near the Cardinals Stadium, the Mattel Adventure Park capitalizes on Barbie mania. You can watch the fascinating construction process via a construction cam or time-lapse. Glendale, the sixth-largest city in Arizona, is a bustling hub with significant establishments like Luke Air Force Base, Boeing, Lockheed-Martin, Magellan Aerospace, and Honeywell. For entertainment, you have State Farm Stadium, Gila River Arena, spring training fields, and abundant shopping and hospitality options.
3. **Ritz-Carlton Resort & Hotel, Paradise Valley**: The Ritz-Carlton Resort & Hotel project, initiated in 2018, is nearing completion. This 122-acre space in Scottsdale will house a 200-unit hotel, 81 resort villas, and approximately 120 single-family lots. The development also includes dining and entertainment options. Although job postings are not available online yet, this project is expected to bring a wave of employment opportunities to the area. Stay updated by checking the construction website.
4. **Kohler, Casa Grande**: The well-known kitchen and bath manufacturer, Kohler, is constructing a plant in Casa Grande. This endeavor is set to create 500 full-time jobs in their manufacturing facility, ancillary warehouse, and office space. Kohler's one million square-foot site is environmentally conscious, incorporating sustainability and alternative energy sources. The project is slated for completion in 2025, offering potential employment prospects and contributing to the local economy.
These exciting building projects not only enhance the Valley's infrastructure but also provide potential buyers with promising new areas to explore! Stay tuned for further updates as these projects develop and enrich the local community.
What DeDe is Reading: 
I read an interesting Article from REALTOR.com recently and I'm definitely seeing an uptick in multigenerational living.  I even saw it in the home my Sellers just sold!  In the face of soaring home prices and rising mortgage rates, today's hopeful homebuyers are exploring innovative paths to homeownership. A recent survey conducted by Realtor.com and Censuswide reveals that many potential buyers are turning to their families for assistance. For over 700 respondents planning to purchase a home within the next year, financial challenges have led 29% to move in with their parents, while an additional 22% are considering this option. Younger respondents, in particular, are open to this strategy.
Moreover, 62% of respondents are willing to downsize or relocate to a less desirable neighborhood to save money for their home purchase. The primary motivations behind their home searches include homeownership, increased space, and better access to the outdoors. The proximity to family plays a significant role, with over 25% of respondents considering it in their home search.
Furthermore, family support extends beyond home location preferences. Approximately 50% of respondents are motivated to move closer to family for childcare assistance, with 44% seeking help with their own children. Siblings and parents, too, are buying or considering buying homes in proximity to family members.
The survey indicates that 83% of respondents are open to the idea of co-buying a home with family or friends. For many, this approach enables resource pooling, leading to the acquisition of homes in better areas or with more modern features and increased space.
Although the national median listing price has decreased year-over-year, elevated mortgage rates have pushed the cost of homeownership more than 20% higher than in the previous year. As a result, homebuyers are exploring creative solutions to enter the market, including turning to family for support. The shortage of homes available for sale remains a concern, sustaining high prices as demand continues to outpace supply. However, prospective buyers may find relief in the expanding new construction sector, with builders increasing production to meet the surging demand. As the market continues to evolve, the enduring importance of family in the homebuying process remains a noteworthy trend.
Rent Check – September 2023: 
"ARMLS® COPYRIGHT 2023"
RENT Check™ is ARMLS's monthly publication showcasing the Valley's residential single family leasing market.
What's the RENT Check Quotient (RCQ)? It is the ratio of closed rentals to closed sales. For example, 1:2 (one
to two) would mean for every 1 rental, there are 2 closed sales. 1:1 (one to one) would mean that the number of
closed rentals and closed sales are the same.  This month's Rent Check has the Median Lease Price at $2150 with the Average lease at $2368.
Average days on market are 39.
The Rent Check Quotient® is 1 : 2.
Click HERE to see what's in the MLS for Rentals.
Ready to see if you're ready to buy, you might be, reach out to one of the AWESOME LENDERS I work with who can work with you through programs you qualify for, getting ready to buy, down payment assistance, etc.  I suggest Michael or Brogan .
Valley of the Sun Sold Listings
5139,4352,5707,7603,6694,8109,7456,5916,6266,5572,5211,4621
Information is deemed to be reliable, but is not guaranteed. © 2023
Valley of the Sun Inventory
20206,18569,17793,16647,15609,14379,13814,13583,13502,14892,16421,18255
4976,7932,7724,8449,7881,7906,7669,7047,8018,8071,8266,6914
Information is deemed to be reliable, but is not guaranteed. © 2023
Valley of the Sun New Listings
4976,7932,7724,8449,7881,7906,7669,7047,8018,8071,8266,6914
Information is deemed to be reliable, but is not guaranteed. © 2023
Valley of the Sun Pending Listings
4452,6721,6802,7589,7794,7159,6297,5831,5812,5017,4741,3248
Information is deemed to be reliable, but is not guaranteed. © 2023
Valley of the Sun Absorption Rate
2.7,2.6,2.57,2.47,2.39,2.28,2.21,2.19,2.19,2.41,2.69,3
Information is deemed to be reliable, but is not guaranteed. © 2023
Valley of the Sun Sale to Original List Price Ratio
91.3,92.0,92.9,94.0,94.7,95.6,96.2,96.7,96.6,96.8,96.6,96.0
Information is deemed to be reliable, but is not guaranteed. © 2023
Valley of the Sun Average Days on Market
68.2,79.0,81.1,76.5,73.2,68.4,64.5,58.5,57.5,55.4,55.8,57.1
Information is deemed to be reliable, but is not guaranteed. © 2023
Valley of the Sun New Listings Volume
2961553112,5229202708,5130864820,5394546759,4972647948,5111025186,4753780598,4309141109,4950250101,5431541951,5737582653,4674557671
Information is deemed to be reliable, but is not guaranteed. © 2023
For today, Friday, October 20, 2023, the current average interest rate for a 30-year fixed mortgage is 8.01%, up 12 basis points from a week ago. If you're in the market for a mortgage refinance, the average 30-year fixed refinance interest rate is 8.04%, falling 1 basis point since the same time last week. Meanwhile, the national 15-year refinance interest rate is 7.31%, up 12 basis points from a week ago.
New Listings:
New to the Market
MLS IDX Listing Disclosure © 2023
Copyright 2023 Arizona Regional Multiple Listing Service, Inc. All rights reserved. Information Not Guaranteed and Must Be Confirmed by End User. Site contains live data.
Upcoming Open Houses:
Don't forget to bring me!
Open Houses this Weekend
MLS IDX Listing Disclosure © 2023
Copyright 2023 Arizona Regional Multiple Listing Service, Inc. All rights reserved. Information Not Guaranteed and Must Be Confirmed by End User. Site contains live data.
Recent Price Changes:
Recent Price Changes
MLS IDX Listing Disclosure © 2023
Copyright 2023 Arizona Regional Multiple Listing Service, Inc. All rights reserved. Information Not Guaranteed and Must Be Confirmed by End User. Site contains live data.
Featured Listings:
Featured Listings
MLS IDX Listing Disclosure © 2023
Copyright 2023 Arizona Regional Multiple Listing Service, Inc. All rights reserved. Information Not Guaranteed and Must Be Confirmed by End User. Site contains live data.
---
ADOT's Weekend Freeway Travel Advisory (Oct. 20-23) – Phoenix Area-Plan for closures of I-10 near Broadway Curve, US 60 in East Valley
PHOENIX – Improvement projects will require closures or lane restrictions along some Phoenix-area freeways this weekend (Oct. 20-23), according to the Arizona Department of Transportation. Drivers should allow extra travel time and plan detour routes if necessary while the following weekend restrictions are in place:
Eastbound Interstate 10 closed between US 60 (Superstition Freeway) and Loop 202 (Santan/South Mountain freeways) from 11 p.m. Friday to 4 a.m. Monday (Oct. 23) for the I-10 Broadway Curve Improvement Project. Westbound US 60 ramp to eastbound I-10 closed. Both HOV ramps between I-10 and US 60 closed. Eastbound I-10 on-ramp at Broadway Road closed.

Detours: Eastbound I-10 drivers can consider using eastbound Loop 202 (Red Mountain Freeway) starting near SR 51 to reach southbound Loop 101 or using eastbound US 60 to southbound Loop 101 and westbound Loop 202 (Santan Freeway) in Chandler to reach I-10 beyond closure. Drivers in the West Valley also can use southbound/eastbound Loop 202 (South Mountain Freeway) to avoid the eastbound I-10 closure.

Westbound I-10 narrowed to two lanes between Baseline Road and US 60 from 10 p.m. Friday to 4 a.m. Monday (Oct. 23) for construction. Eastbound US 60 off- and on-ramps at Mill Avenue also closed. Allow extra travel time and consider alternate routes. Please use caution and be prepared to slow down and merge safely when approaching all work zones.

Note: Guadalupe Road closed in both directions between Pointe Parkway and Calle Saguaro from 8 p.m. Friday to 4 a.m. Monday (Oct. 23). Consider using Elliot Road.

Eastbound US 60 (Superstition Freeway) closed at Greenfield Road from 9 p.m. Friday to 5 a.m. Monday (Oct. 23) for bridge work. Eastbound US 60 on-ramps at Val Vista Drive, Gilbert Road and Stapley Drive also closed. Please allow extra travel time.

Detours: Consider exiting ahead of the closure and using eastbound Baseline Road, Southern Avenue or Broadway Road to travel beyond the closure. The eastbound US 60 on-ramp at Greenfield Road will be open, but plan for heavier traffic in the area.

Southbound Loop 101 (Agua Fria Freeway) narrowed to two lanes overnight between Glendale Avenue and Cardinals Way from 9 p.m. to 5 a.m. Sunday through Wednesday nights (Oct. 22-25) for pavement repairs. Southbound Loop 101 on-ramps at Glendale and Maryland avenues closed at times.

Detour: Consider using southbound 91st or 99th avenues to Cardinals Way when ramps are closed.
Schedules are subject to change due to inclement weather or other factors. ADOT plans and constructs new freeways, additional lanes and other improvements in the Phoenix area as part of the Regional Transportation Plan for the Maricopa County region. Most projects are funded in part by Proposition 400, a dedicated sales tax approved by Maricopa County voters in 2004.
Real-time highway conditions are available on ADOT's Arizona Traveler Information site at az511.gov and by calling 511. Information about highway conditions also is available through ADOT's Twitter feed, @ArizonaDOT.

National Real Estate News 
Real Estate News in Brief
Responding to very strong retail sales figures, the bond market took another dive, and average 30-year mortgage rates consequently moved above 8%. The slowdown in transaction volumes will likely continue, but there are signs that home prices are beginning to drift lower.
8.03%. That was the average rate for 30-year, fixed rate mortgages on October 19, according to Mortgage News Daily. As a reminder, on February 2, 2023, the average rate was 5.99%. What drove the latest spike? Read on.
Shop, shop, until we drop? September retail sales rose an incredible 0.7% MoM, trouncing expectations of a 0.3% MoM rise. The Fed wants lower inflation and slower growth. This looks like the opposite, stoking bond market fears of 'higher for longer' interest rates. The yield on the 10-year US treasury recently closed at 4.97%, the highest level since mid-2007. [Census Bureau]
Builder confidence got hammered. The National Association of Homebuilders' confidence index dropped 4 points to 40 in October 2023 (anything <50 = bearish). That's the lowest figure since January 2023. "Builders have reported lower levels of buyer traffic, as some buyers, particularly younger ones, are priced out of the market by higher rates." [NAHB]
A mixed bag from housing starts & permits. New housing permits fell 4% MoM to an annualized rate of 1.47 million units. But within that, new permits for single-family homes rose 2% MoM. In fact, SFH permits have risen every month this year and now represent two-thirds of the total. [Census Bureau]
The boom in new multifamily construction (buildings with >5 units) in 2021–2022 is drawing to a close. While there are nearly 1 million MF units (on an annualized basis) under construction, permits for new MF units have plunged since the beginning of the year. [Census Bureau]
In the threes. Existing home sales for September dropped 2% MoM (and 15% YoY) to an annualized pace of 3.96 million units sold. That's the lowest figure in 13 years, but I actually thought it would be much worse considering the movement in mortgage rates. Median home prices also dropped into the threes, in this case $394,300 (-3% MoM). [NAR]
Realtors are losing confidence, but homes are still selling quickly. Only 8% of Realtors thought that buyer traffic would improve in the coming 3 months. But for the homes that sold in September, 69% were on the market less than a month, and they saw an average 2.6 offers. [NAR]
Powell in NYC. Did Fed Chairman Jerome Powell hear the pleas of the NAR, NAHB, and MBA, and explicitly call time on interest rate hikes at his Economic Club of New York speech? Of course he did not. Instead, the much-anticipated speech turned into a non-event.
---
A Seasonal Reminder
'Tis the season when inventory levels rise and prices fall, but people often forget that. It's a supply and demand thing, driven by weather and school start dates. I mean, who wants to move their family in January? Yank the kids out of school mid-year and get frostbite while loading the U-haul? Also, in winter some sellers may delist their home or cut prices to move 'stale' inventory.
Of course, this normal seasonal pattern can get disrupted, which is what happened during the pandemic. But the underlying seasonality is still there. It's just hidden.
First, let's look at the chart of median listing prices below. It's from Realtor.com's residential real estate database. Here's what's important to know:
Listing prices trend strongly upward, but exhibit clear seasonality
Listing prices bottom in January (occasionally December)
Listing prices tend to peak in June or July (occasionally August)
The average tough-to-peak rise is 12% (if you exclude 2022, which was +22%)
The average peak-to-trough decline is 4% (if you exclude 2022, which was -10%)
The median list price has risen 66% since July 2016
Next, let's look at active inventory. This is also from Realtor.com and excludes listings that have already gone pending. As you can see in the graph below, the normal seasonality got completely swamped by the pandemic boom in demand. In 2020, the typical rebound in inventory basically didn't happen at all. Here's what you need to know:
Active inventory has been trending lower over time, and exhibits clear seasonality
Active inventory levels tend to trough in January or February (which is also when prices start to rise — see the connection?)
Active inventory levels tend to peak sometime between July-September, at least until the pandemic threw everything off.
The average trough-to-peak increase in active inventory pre-pandemic was 18%.
The average peak-to-trough decline in active inventory pre-pandemic was 21%
Between the peak of July 2019 and the trough of February 2022, active inventory fell 72%.
Active inventory has dropped by 52% between July 2016 and today.
I'll be watching this inventory figure very closely. If it keeps rising in October and November, that will be because there is a 'buyer's strike,' and prices could begin falling again.
---
Realtor's Confidence Index for September
I love this report because it goes beyond just sales and inventory numbers. The results of the September survey were consistent with low (and slowing) transaction activity, and with relatively high (but easing) competitive intensity for the limited supply.
Only 8% of respondents said that they expect buyer activity to pick up over the next 3 months. But that's not terribly surprising given normal seasonality and current mortgage rates.
The number of offers per home sold in September dropped to 2.6 (from 3.2 in August). This means that on average, there were 1.6 unsuccessful offers for each home sold (because 1 offer actually got it).
26% of the homes sold in September transacted above their original list price (down from 31% in August and 35% in July). In April 2022, that figure was 61%! Ahhh! The good old days!
69% of the homes sold in September were on the market less than a month before they found a buyer (down from 72% in August). In April 2022, that figure was 88%.
29% of the homes sold in September were all-cash, equalling the January 2023 high.
27% of buyers waived the inspection contingency (up from 23% in August). In June 2022, that peaked at 30%. You wouldn't do that unless you were afraid of losing out to someone else.
---
Mortgage Market
At the end of August, average 30-yr mortgage rates plunged from 7.50% to 7.08%, and hope was building that a return to 6% rates was in sight. Since then, the 10-year US treasury has moved sharply closer to 5% and mortgage rates have jumped above 8%. And while more Fed members are suggesting that the Fed has already done enough, Mr. Powell hasn't even come close to declaring "mission accomplished."
Interestingly, the last time the yield on the 10-year UST was this high (2007), mortgage rates were 100 basis points (1%) lower. What's different this time? We'll never know for sure, but it seems to reflect: 1) greater uncertainty with regards to the Fed's policy rate direction, and 2) the steeply inverted yield curve.
The futures market is currently pricing in a tiny 4% chance of a rate hike on November 1, but is putting a 37% probability on a +25 bps hike at the subsequent FOMC meeting on December 13.
---
They Said It
"The housing affordability crisis can only be solved by adding additional attainable, affordable supply. Boosting housing production would help reduce the shelter inflation component that was responsible for more than half of the overall Consumer Price Index increase in September and aid the Fed's mission to bring inflation back down to 2%. However, uncertainty regarding monetary policy is contributing to affordability challenges in the market." — Robert Dietz, NAHB's Chief Economist
"As has been the case throughout this year, limited inventory and low housing affordability continue to hamper home sales. The Federal Reserve simply cannot keep raising interest rates in light of softening inflation and weakening job gains." — Lawrence Yu, NAR's Chief Economist
My Website always has a list of what's upcoming.  Go here and maybe I'll see you out there!
DeDe's Social Media:
What's Going on with DeDe? 
Darci is sporting her new harness while guarding the window!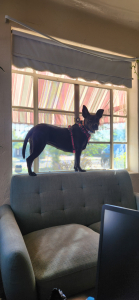 Had a GREAT time with one of my guru friends at an Ads extravaganza and learned lots how to market my listings and got an advance copy of her new book!
Finally got to be in the room with a wonderful Mentor and got a copy of his new book, which the dogs loved!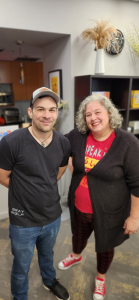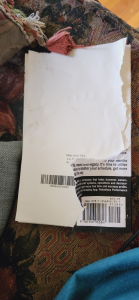 Got my beauty on getting a wonderful Peel from the Magical D'Lisa Shayn at Salon D'shayn, so I'll be molting for the next week!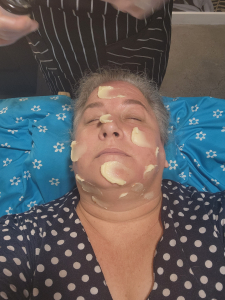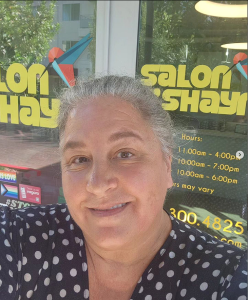 Got the appraisal back at a wonderful Surprise home my clients are buying.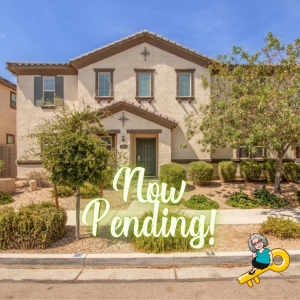 That's all for the Birthday edition of the newsletter!  Know I am always here for any questions you have about Buying, Selling, or Investing in Residential Real Estate!  HomeOwnership too!  Vendors and Tradespeople too!  Don't hesitate to Reach out
See you next Week!
DeDe